Launching the New Government
George Washington had to face many problems and issues when he became the first leader. He had to set up and launch the new system of government that would seem fair and just to all the colonists. At the time, slavery was largely used to do tasks for plantation owner and colonists. Many people debated whether or not slavery was right or wrong. Most colonists thought slavery was good since they would get work done for free. Others thought that enslaving other people was a wrong thing to do and wanted to fight against it.
Powered by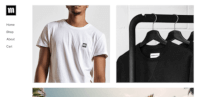 Create your own unique website with customizable templates.